24/7 Home Heating Repair
You'll Have Heating Today!
We Can Repair Any Type  of Heating System in Las Vegas, Guaranteed or Your Money Back…
That means no matter what type of heating your home might have, we have the skills, knowledge and sense to repair your furnace, heater  or heat pump fast and in a hurry. We wrote and patented the book on repair procedure "The  Repair Matrix". We can record and stream our diagnostic and repair, to leave with you for your records. Call us now and well treat your home like our very own, with respect. In Las Vegas, heating repair is a priority. That's why we are open 24/7 for your protection. That means, we're always ready to respond.
46 Years in Business & Still 4.9 Stars, Were A Sure Thing…

Our Heating Service & Repair Resume For You:
Fully licensed, bonded and insured 200,000 Limit
5 Year warranty on Repair
8 vehicles around town for speedy service
Clean cut staff anyone can trust
We carry a wide variety of parts on every vehicle
We're On Time, Every Time
12 Months same as cash on repairs
Employees are drug tested
Open 24/7

for your convenience
Furnace Repair and Maintenance
Heat Pump Repair and Maintenance
Aquatherm heating systems repair
More Details
We are pros at working on your type of heating system
In 2014 we have come a long way from the old style single stage heating systems. Today's heating systems are much more complex than anything ever before built. We have fully variable speed motors, 2 stage heating or even a fully modulating gas valve, heat pumps or even a hot water heat type of system that relies on your hot water heater to warm the house. The point is no matter what type of furnace or heater you might have, at Las Vegas Air Conditioning Inc., we have the solution.
There's never been a heating system that we couldn't fix… and we won't start with yours
We have a background and training that is un-paralleled in this city. Our leaders Michael and Stephen Gamst have both been repairing furnaces or other type of heating systems since they were barely out of 6th grade. Their father John Anthony Gamst USMC trained them with a work ethic you've only read about in western novels, "If it's worth doing, it's worth doing right" was the rule and still is.
We will be on time
Being smart is one thing but we know reliability is just as important. When you call a Las Vegas heating company like us you receive, top notch service from the time we answer the phone till we show up on time and all the way through till we leave.
Safety is our number one priority
We know that you're concerned about your furnace and the safety of your homes future. That's why we only send the best and brightest technicians we can find to your home. We only send men who care and show it in their actions. If we can't trust you, then you don't work at Las Vegas Air. Heating safety is a big deal and when we inspect your furnace, heat pump of heater we will look for any possible safety issue, we will notify you immediately if your system is a possible danger's.
We can see the future
Our service technicians are so good they can not only tell you what is currently broken, but they can also look into the future and tell you what is going to break soon. We look for signs of major breakdowns. We will not suggest a repair to you knowing that there is another problem. If we see something like a rusty coil in your attic or a fire hazard for instance we will not fix it and leave you to be surprised when your ceiling drops from water leaking from a rusty coil. This would make us look bad and you would be un-happy. So our team is trained to foresee problems before they arise. We will always tell you the whole story and give you all your options with an un-biased opinion; we give you your options and costs and let you decide what to do with your home, with our professional advice of course.
A Las Vegas Air warranty is iron clad
We are so sure of our service team that if one of our repairs in Las Vegas fails we will come back to your home and fix it absolutely free. We also have a 1 year money back guarantee and a lifetime workmanship warranty on any new platinum series furnace.
We do it right the first time
A call back for the same repair is time consuming for you and costly for us, so we vow to do every job right and then some. We know doing it right once is better than doing it twice. And with our level of warranty, we'd just rather do it right the first time.
We speak no evil
We are a family oriented god fearing company, doing the right thing is not just a saying, it's what we do. We have families and children just like you and we want our children to look up to us, respect us and do as we do. So we just tell the truth every time. We have to sleep with ourselves at night.
We finance
Rather stretch out the repair costs? No problem we offer 12 months no interest same as cash financing on any repair or replacement. Or we could stretch that payment out for 36 or 47 or even 132 months and get the payment real low.
Your home is left spotless
When we make a mess, we clean it up. There's nothing worse than someone coming to your home making a mess and leaving. So we won't do it.
The old style furnace 1940s – 2005
Your probably used to it but here's what an old furnace does.
Turns on, blasts the home with heat, baking the humidity right out of the air. Then it shuts off and allows the home to cool off. This is the problem since certain parts of the home cool off faster than others. Some rooms have more heat load than others causing rooms to warm unevenly. So you end up with a home that has uneven temperatures and has high temperature swings. Also think about this if you need that 80,000 BTU furnace on a 30 degree night, what about a 60 degree night. Do you still need that 80,000 BTU furnace? Probably not is the answer.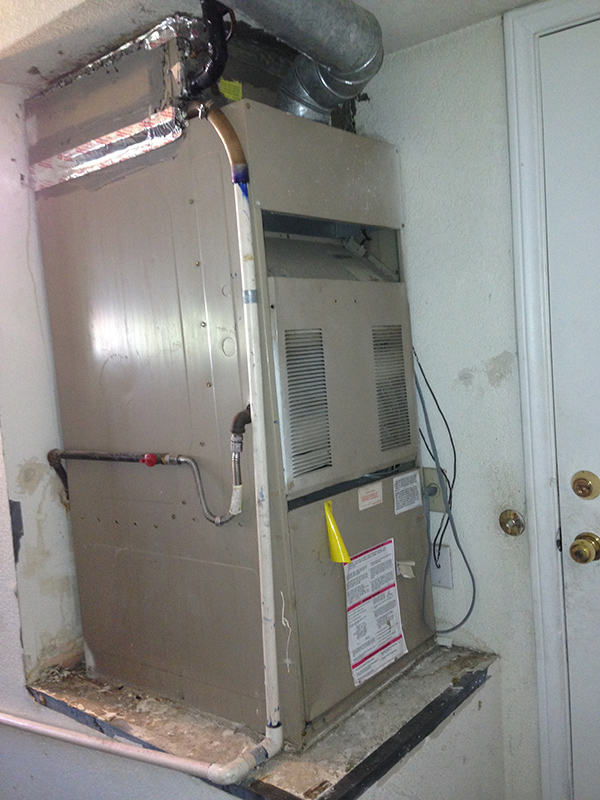 Why Not Choose…This
The new style Furnace 2005 – Current
Fully Modulating gas valve and a variable speed motor. This furnace can vary the heat output and the speed of the blower motor. Instead of turning on off on off this unit will come on slow and rev up only giving you the heat you need and always running on the lowest possible speed. If its real cold out, you get a lot of heat but when it's only a little cold, you get a little heat. And since it runs at a lower speed and put out less heat it takes longer to warm the home almost never shutting off it just revs up or revs down always keeping every part of the home to within 1/10th of a degree to where you set it. Since it stays running it keeps the air circulating and those rooms in the home that are uneven, after one of these they will be because all your homes air is always mixing.
That is the level of comfort we provide at Las Vegas Air Conditioning and Heating.
Call Today, Get Service Today: 702-437-1888