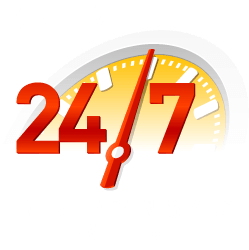 24 Hour AC Repair, Get Cooling Now.
When it comes to air conditioning repair, the team at Las Vegas Air Conditioning has you covered in every way.
In Las Vegas, Air Conditioning Repair is a need you can't wait for. That's why we're available 24/7
You will never hear Las Vegas Air Conditioning Inc. say "I can't" because we can. We have never ran into an air conditioner that we could not get working and we won't start that on yours. When another company tells you it can't be fixed, that's not true at all, it never is. All you need is a real technician who's lived ac repair in las vegas year in and year out a man who could tear down and reassemble an air conditioner with a blindfold, but never forgets to wear show covers.
You need a man who cares, does good work and it shows. You need a Las Vegas Air Conditioning man.
Our Air Conditioning Repair Resume to you:
Over 50 years' experience repairing air conditioners right here in Las Vegas, NV
5 year Warranty On Most Repair's
Drug tested and screened technicians
Fully Licensed and Insured
Phones are answered 24 hours a day 7 days a week.
A Friendly & Likable Staff That Cares.
When choosing a company to work on your home air conditioning system, why not choose the company that wrote the book on ac repair?
That's right we wrote the book on ac repair procedure in Las Vegas it is called "The AC Repair Matrix". Because, we know not everyone wants to call a professional to make a home visit. So if you're the kind of man or women who likes repairing your own stuff. Then boy did you find the right company, because out Matrix can walk you through any air conditioning diagnosis, service or repair. Go ahead and give it a try you'll love what you find. If our method is followed then your air conditioning system will get fixed. Our very own staff uses the repair matrix that's how well it works.
In the business for a new air conditioning unit. We can help you there too!
Imagine a home environment that stayed exactly where you set the thermostat to within 1/10th of a degree. An environment that had the perfect amount of moisture. You never have dry lips, dry throat, dry eyes or skin. Imagine a home environment where you never felt or heard the air conditioning or the furnace but it was always comfortable in every single part of the house. Imagine every single room is the exact same temperature to within 1/10th of a degree. Imagine a home environment that had 100% better air filtration than that 1inch filter your using now. Imagine no allergens less sneezing and less allergy symptoms. You never feel the air it is just always a perfect temperature. That's the kind of system you can have if you call Las Vegas Air Conditioning and ask about our Platinum Home Package.
So when your home or business is in need of a professional air conditioning service and repair company or a new air conditioning installation, try calling the pro's at Las Vegas Air Conditioning, for peace of mind.

3 Generations Cooling Las Vegas.
A Family You Can Trust.
We arrive fast
We've been known to arrive within an hour of your call.
We will always go the extra mile for you
We do things like use digital gauges to charge your air conditioning system. For the best accuracy, this is why when we charge a system the compressor has been known to last for 15+ more years, because we do it right.
A Warranty You Can Count on
We're so sure of our repair procedures and our technicians that if one of our repairs or services fails in Las Vegas we will come back and fix it absolutely free and we also have a 1 year money back guarantee on select items and a lifetime workmanship guarantee on every new platinum series system. That's right and with a warranty like that, you better bet we do it right the first time.
If you need home air conditioning service or repair or if you want to learn how to repair an air conditioner for yourself then Las Vegas Air Conditioning Inc. should be your next and we will arrive prompt, we will arrive fast and ready to work.
We have X-Ray vision and can see the future
Our trained ac repair technicians are so good, they can not only tell you what's currently broken. But, they can also see what is getting close to a breakdown and give your air conditioning system the full eagle eye.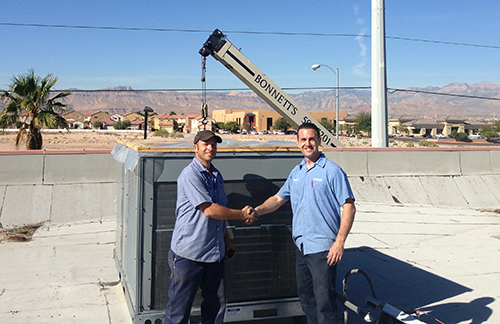 We keep our word
If we quote you a price and tell you that's it, then that's it.
We Don't Guess!
You will never hear a technician from Las Vegas Air Conditioning say I think. We know when were right, so when we say this is what's broke, you better believe that's what it is.
Our leaders keep us honest
And they make sure every technician in this company is honest and out there doing a good job. We have a reputation to uphold and we will. Michael and Stephen Gamst have been fixing air conditioners since what seems like the dawn of time. So long in fact, that neither brother can remember learning air conditioning. They were both raised by the same man John Anthony Gamst who forced both boys to learn heating and air at a young age. No playing after school for these boys, no sir it was in a van and straight to work for them. They were taught to work long 16 hour days 7 days a week and keep a work ethic you've only read about.
But, it's a good thing because now there's a company who says there's nothing we can't fix, there's nothing we can't do. When nobody else can fix it or when you're told it can't be fixed. That's not true at all, you just need a man who lives and breathes air conditioning repair. A man who can tear apart and re assemble an air conditioner in his sleep. A man, who speaks only the truth and takes home comfort to a new level, you need…….A Las Vegas Air Conditioning man.